Magicup ☕ 🔮
Turkish Coffee Fortune Reader App
Passion Project | Role: UI Designer | Timeline: 1 month for MVP (Ongoing)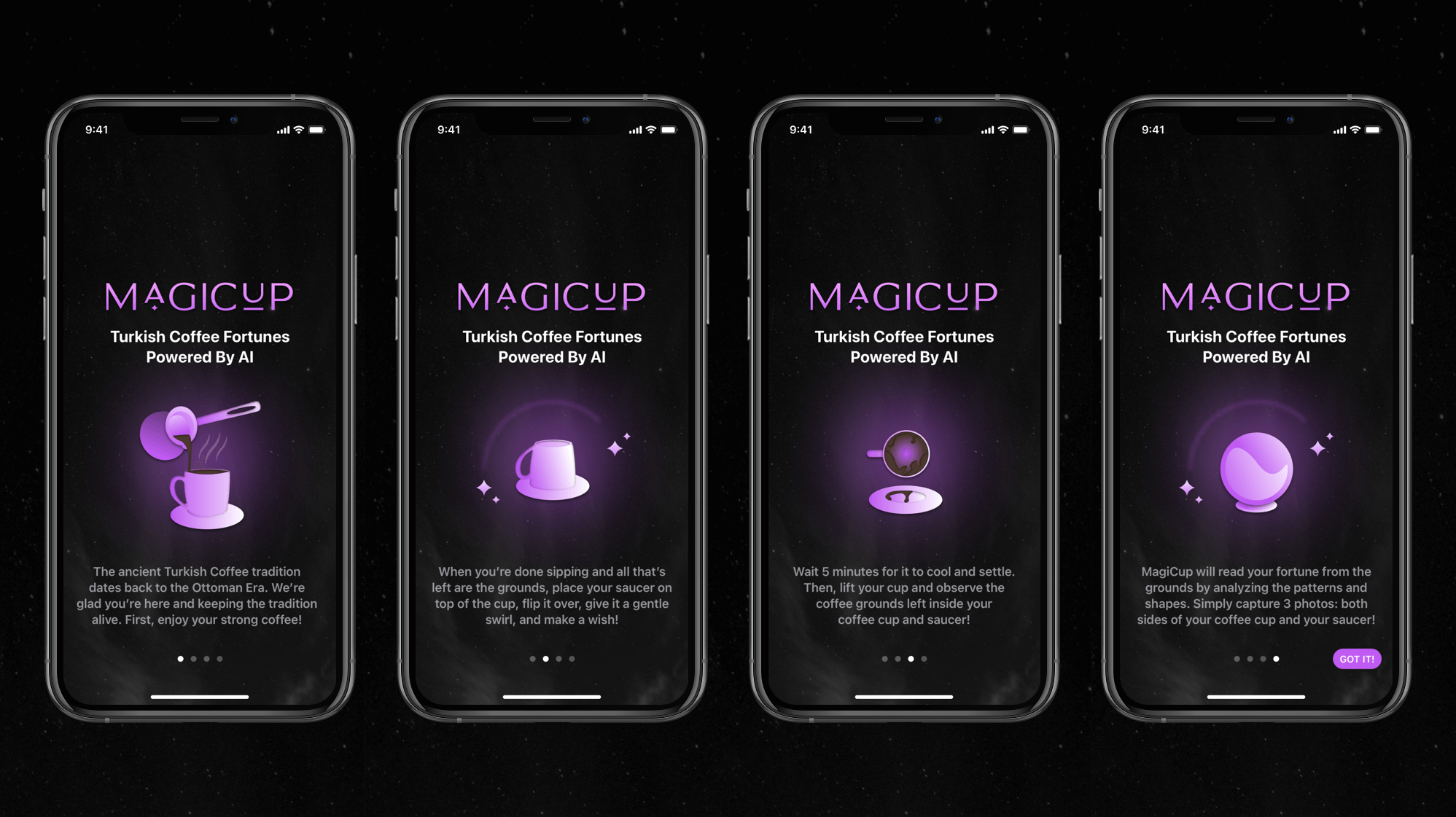 Preface
In 2018, my boyfriend and I helped our friend establish a Turkish Coffee Pop-Up Shop Business which offered individual fortune readings— a beloved tradition dating back to the Ottoman Era. During one of our "Think Big" brainstorming sessions, we imagined designing an app. My boyfriend's Software Developer skills paired with my Design eye and Turkish Heritage could bring a Fortune Reading app to fruition. Ultimately, we left the idea on the backburner as a stretch goal.
Today, I have a wealth of new skills including the ability to wireframe in Sketch and prototype with InVision. I felt that revisiting this idea would make for a great portfolio piece and begin our first Designer-Developer passion project. This project is ongoing and shows the MVP/starting point I shared with my developer.
Competitive Analysis
I started by exploring the current marketplace of Turkish Coffee Fortune Telling Apps in the App Store. Specifically, I downloaded and played around with Kaave, Fal Bakar, and Faladdin. Through this Competitive Analysis, I discovered interesting solutions as well as user reviews. For example, I found Kaave's on-boarding screens to be helpful. Although, in order to be inclusive to users unfamiliar with the tradition, on-boarding screens could be clearer.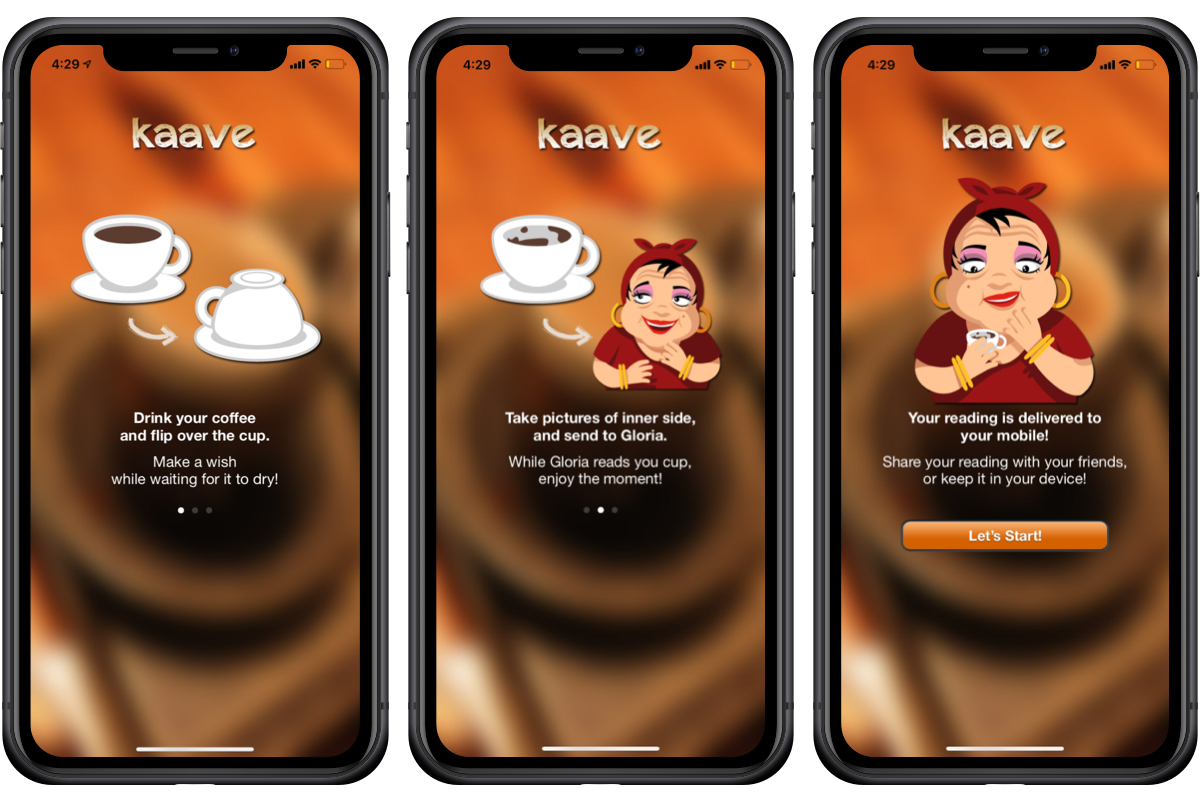 Fal Bakar illustrates a complex, circular net upon taking pictures of your coffee cup--giving the impression that it is "thinking." This gave me the idea to leverage Artificial Intelligence as well as including a loading screen before presenting the user with their fortune.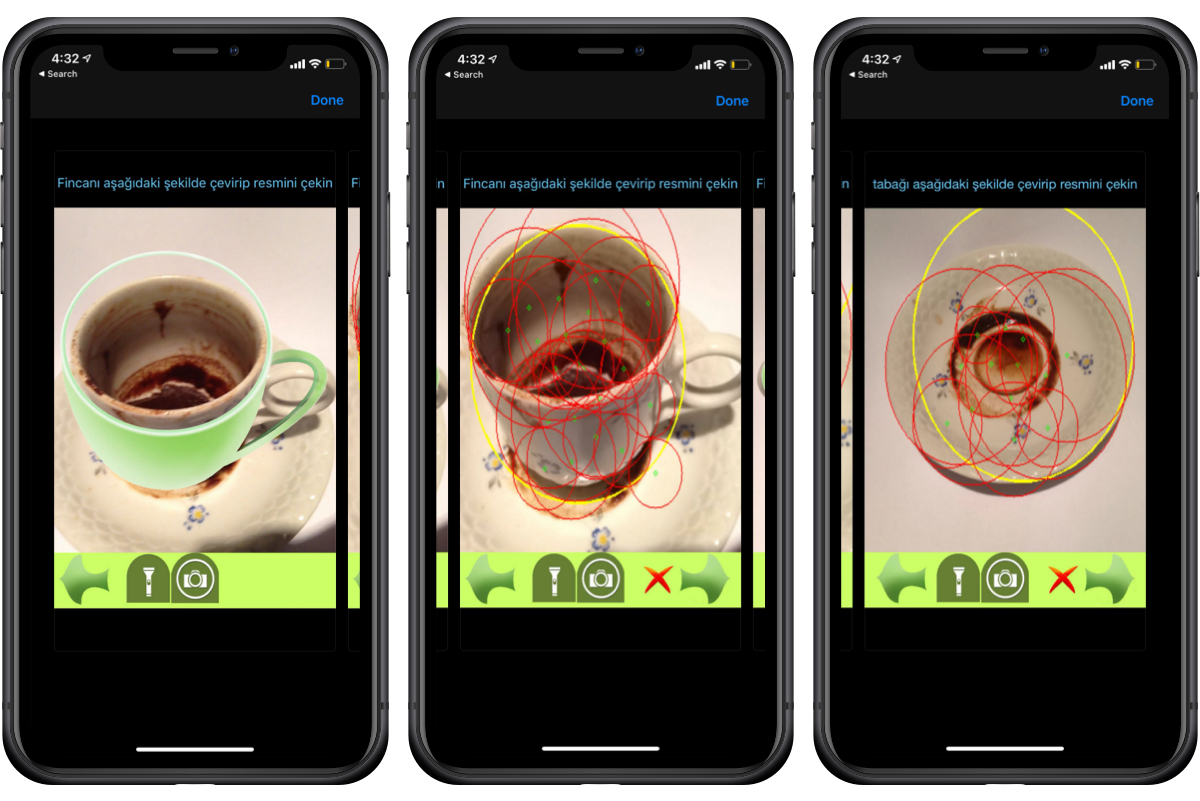 Faladdin customizes readings by collecting information from the user such as age, sex, date of birth, relationship status, job status, and more. One critical review from the app store states:
"Faladdin just repeats the readings, arranges the words in such a crazy manner you have no idea what you just read or simply is just odd and wrong when talking about current situations. Newly broken up? You will get back with your ex. Single? A new love is coming. It's an app so hey have fun I guess."
I personally found myself empathizing with the user's point of view. I felt like I gave too much personal information to feel wowed by the results. This gave me the idea to consider data privacy. To design a simple app that doesn't require a login, doesn't collect personal information (except maybe their name for a personal touch), and doesn't store photos.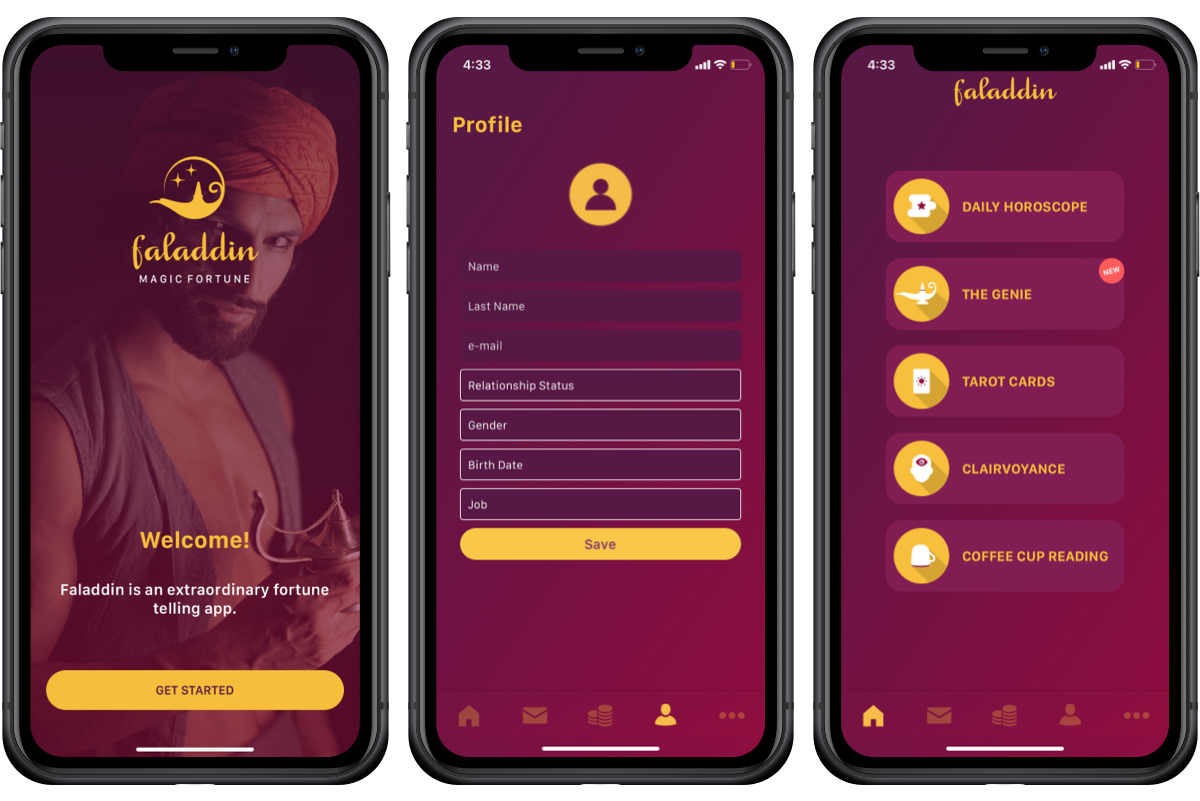 Opportunity Statement
Create a UI that is visually inviting, designed for English-speakers, and is inclusive to those who may not be familiar with the Turkish Coffee Fortune Telling tradition.
Designing for English-speaking users who may be Turkish, or have Turkish descent, or are just interested in learning about different cultures. They may describe themselves as spiritual, superstitious, or interested in astrology. Assuming strong coffee drinkers are adults, my audience could range from age 18-65.
For increased accuracy in the readings, this app will leverage Artificial Intelligence. By guiding the user to take specific pictures of their coffee cup and saucer, the technology will look for common patterns and shapes to formulate a fortune. Fortune content will include a positive or neutral voice that can apply to anyone. Users can also save fortunes to their camera roll or share the image via text message, Instagram, etc.
User Flow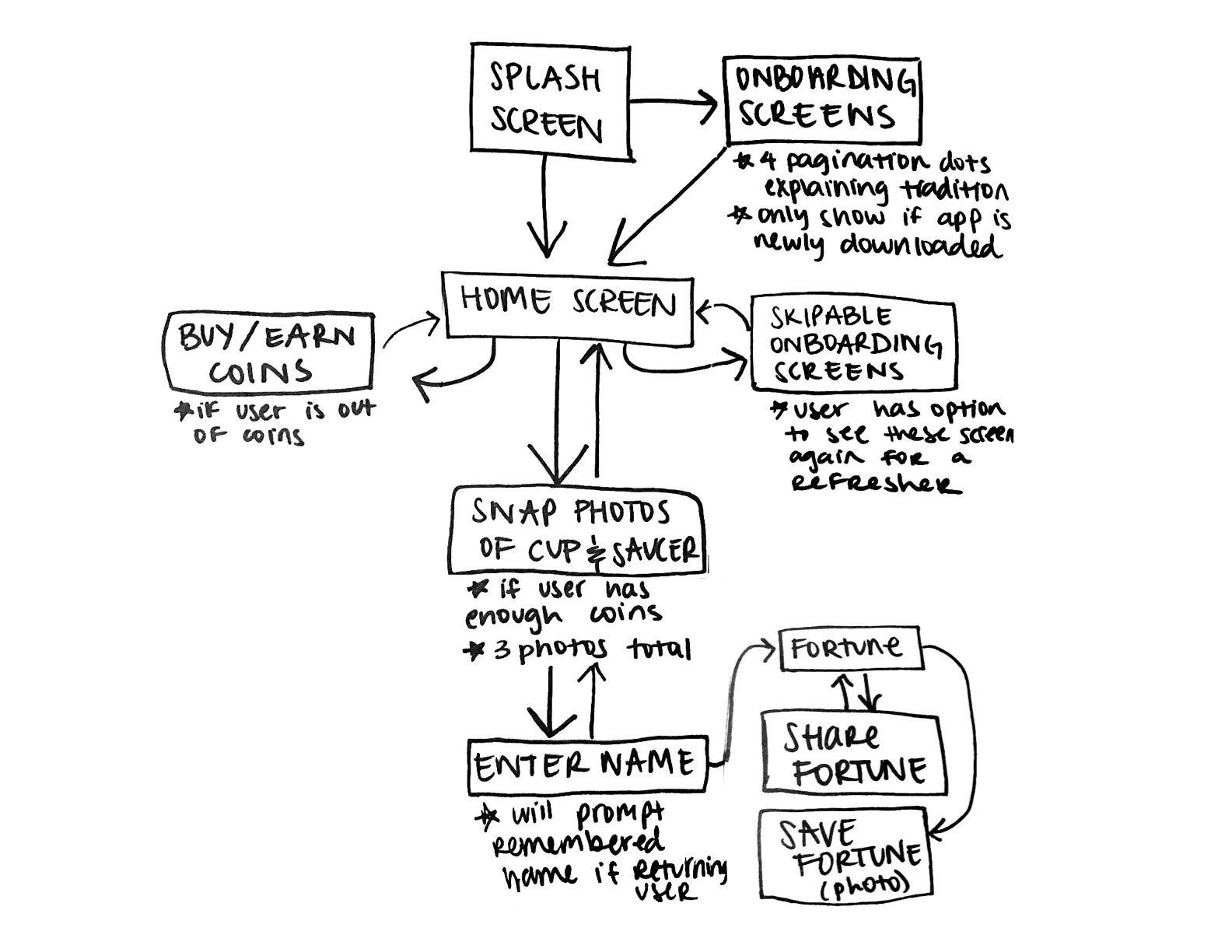 User Testing Takeaways
The issue of monetization I felt should be informed by users by posing the question:
"How much are you willing to pay for this app?"
I concluded that users are willing to pay for the app if the technology appears to "actually work." I have decided to allow one free credit or fortune per diem. Users can either earn one additional credit by watching 5 ads or they can pay for more credits. I will also show a brief ad while the fortune is loading if the user is using their free fortune for the day. I made my prices competitive with Faladdin's.
In addition, my user interviews informed a time-saving feature: The "Remember" toggle button for the fortune recipient's name. This feature will auto-populate the last-entered name. User testing also led me to understand that users may need more hand-holding than I previously expected. Therefore, I added concise instructions for each step of the photo-capturing process.
Final Solution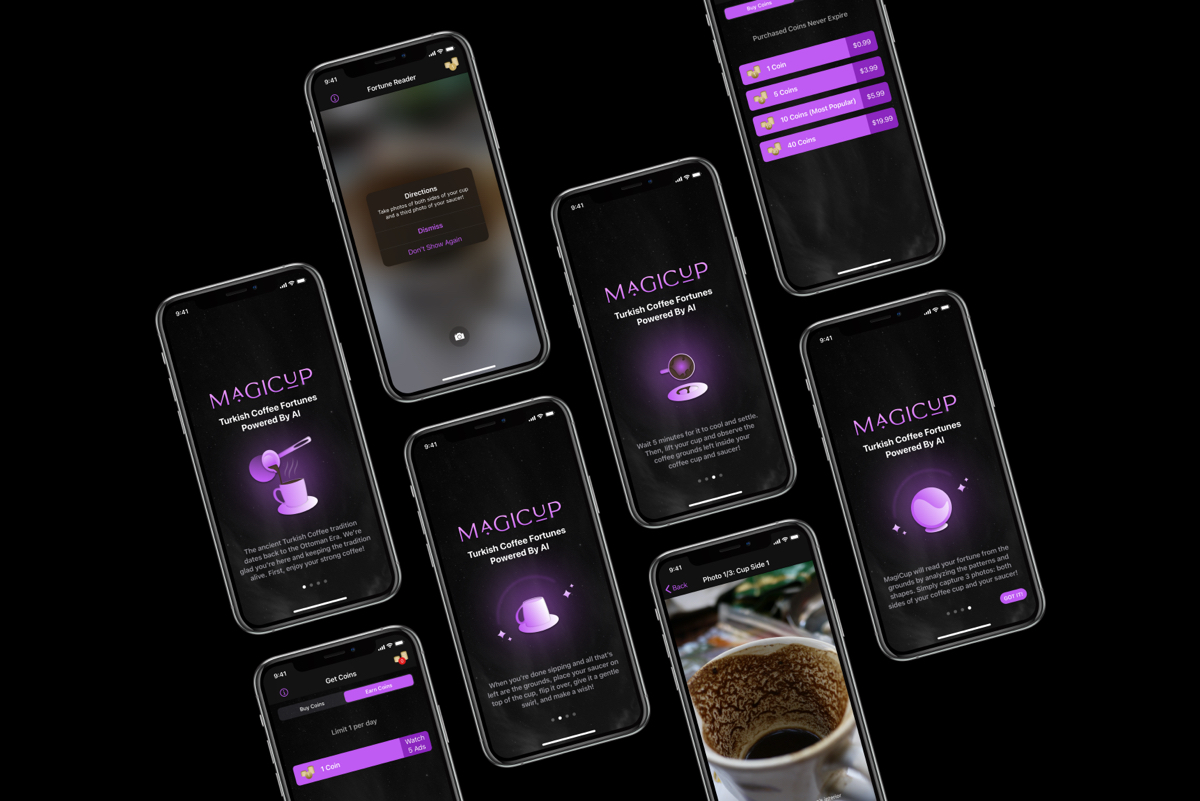 Looking forward
One challenge that will be difficult to address is the percentage of users who demand accuracy--even though fortune telling apps are largely meant for entertainment.
Users were confused on how to pronounce the app's name. My intention was "Magic Cup," but some users read it aloud as "Magi Cup" or "Magic Up." Therefore, I will explore changing the app's logo or name altogether.
I also need to investigate if it's possible/good practice for an app to be released both without a login and the ability to purchase credits.